LED surface mount lights and grille strobe lights are simple but powerful ways to upgrade vehicle lighting systems. These flashing grille lights are easy to install and are very suitable for first-time users, police, fire fighter and other emergency law enforcement personnel. If you need to improve the visibility of your vehicle at night and want an affordable but durable product, LED grille strobe lights are an ideal choice. We can provide you lights with various shapes, dimensions, color combinations and flash patterns. If you need amber grille lights for your truck or red/blue police lights for car grille, they are all available. These grille strobe lights are small, bright and durable, and can be easily installed anywhere on the vehicle.
What are LED grille lights?
The LED grille lights are a type of LED light mounted at the front of the vehicle, usually around the grille. There is more advantage to installing these lights apart from just the terrific look of your car. These lights facilitate the visibility of other drivers in traffic. For example, it is easier for oncoming traffic to see your vehicle when you have LED grille lights installed in harsh weather conditions. An added advantage is that the driver ahead of you can easily recognize your grille lights by looking at the rear-view mirror. These lights serve as a warning sign to oncoming traffic and cars ahead of you in traffic.
So why do we recommend the LED grille lights?
At UNIT SIGNAL, we have specialized in these types of lights, and you can trust our word when we recommend these lights to you. Even though these grille lights are one of our smallest lights, they can be mighty and durable. Every year, we continually strive to stay up to date with technology, and this is a factor that has steered us to create the latest designs of these lights.

What material is the LED grille lights?
You may be wondering what materials these lights are made from? Our manufactures put together a combination of water-resistant materials to ensure these lights can withstand the toughest rains. Aluminum alloy supports the base of the Led grille lights while the polycarbonate material makes up the lens. These combinations plus pure skill and determination help design the small, powerful, and durable grille lights. The polycarbonate offers the strength and support required to protect the internal part of the grille lights. This characteristic of the polycarbonate material makes it hard for the lights to break under a certain degree of impact.
The flashing LED grille lights are undoubtedly 100% resistant to water. This distinctive feature is made feasible by the capabilities of high-grade epoxy resin. You don't even have to worry about moisture because the aluminum alloy is porous at the back to allow the lights to breathe. This increases the life span of the lights.
Installation of grille lights.
Even though installing the LED grille lights is an easy task, there are some precautions that you need to keep in mind. Taking care of your grille lights starts at the installation stage. When you take care of your lights, they will serve you for more extended periods. Pay attention to the little details in the manual to make everything work correctly.
Things you need;
a. A drill
b. Grille lights
c. Protective gasket.
First, you must drill holes around your grille area where you want to mount the lights. These holes will help you mount the wires properly without any worry of them falling. The protective gasket will help stop the lights from accumulating moisture, dirt, and other tiny material that might scratch the grille lights.
Fortunately, our manufactures always have the customer in mind when making these lights. This is evident because our grille lights come with a default EVA gasket when you purchase them. Some grille lights can be mounted on the surface of your car grille. These kinds of lights are usually black with chrome frames, which can be customized to match any car's color. The perfect vehicles to put these lights to the task are police cars, fire trucks, and ambulances.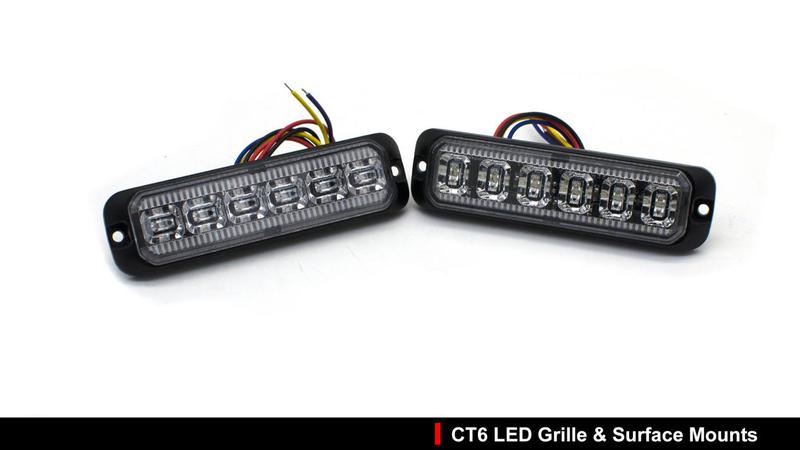 The flashing grille lights from UNIT SIGNAL are about two inches. This feature makes installing these lights perfect at small and compact locations such as car headlights, roof racks, and on the grille. More advantages come with these lights' compact size because they can also be installed on the mudguards, rear/front bumpers, and literally anywhere outside your vehicle. These grille lights use 3W LEDs that come with high power and more brightness than the no-name brands.
UNIT SIGNAL provides various brackets and accessories for mounting the grille lights. You won't run of mounting options when you purchase the grille lights from us. The L-Bracket and hood mount bracket are just a few of the accessories we offer at our company. These accessories provide you with a quick and convenient way to install your grille lights. Besides using stainless mechanical bolts or screws to mount your lights on your vehicle bumper directly, you can also utilize the license plate bracket to mount any flashing grille lights on your vehicle's license plate.
Functionality and color options of LED grille lights.
These lights come with a multi-functionality, and they can be mounted on other lights as well as alarm systems. This is due to the synchronization capabilities that allow them to alternate functions easily. All of these grille lights can work in harmony to produce a trusted lighting solution. Moreover, these grille lights have the capabilities to provide different flashy patterns. These patterns are flexible and can enhance the beauty of emergency vehicles, big trucks, and regular cars. Our grille lights' beauty allows you to choose from an unrestrained number of colors and even the flexibility to combine different colors to fit your needs. Regardless of your choice of colors, UNIT SIGNAL will go above and beyond to provide you with the exact product you desire.
As you select which grille lights to buy, we go ahead to suggest and give you available choices that are there to help you mount the grille lights. For example, if public safety departments want strobe warning lights installation on their vehicles, but they don't want the lights to be too conspicuous. In that case, we suggest to them the LED grille strobe lights. UNIT SIGNAL puts the needs of customers first. Whatever reason you have to buy our grille lights, always remember, at UNIT SIGNAL, we have all your grille light needs as a priority.

After you purchase the emergency lights from us, we guarantee you a standard warranty and the lights come with a life span of up to 100000H. Make sure to consult a professional for installation, or you can take advantage of our easy to follow manual for the step by the step installation process.