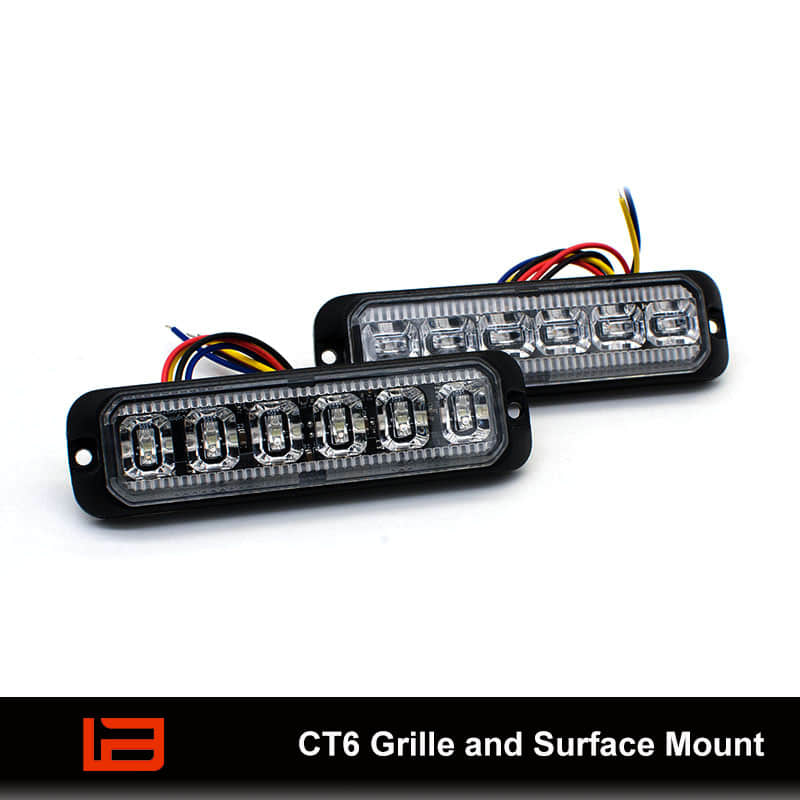 CT6 LED Grille and Surface Mount Lights
The CT6 is Brand-New light. Single color or Dual color available.
Request A Quote
Features:
Brand new CT6 light
Powered by DC 10 -30V
Single color or Dual color available
6 Pcs or 12Pcs 3W LED with thin(12mm) design
Aluminum base for efficient heat dissipation,UV-resistant PC
With gas-permeable membrane to disperse water vapor
50% power steady on functions available
Built-in 20(single color)/25(dual color) selectable flash patterns with Pattern Memory
Simultaneously or alternately between multiple units
IP-67 Standard, Weatherproof
Fully encapsulated for moisture, vibration and corrosion resistance
Long life LEDs rated to 100,000 hours of reliable operation
Warranty:
5 Year Warranty on All Emergency Vehicle Lighting Products
Included in Box:
CT6 Grille and Surface LED Light
Gasket
2 Screws
Owner's Manual
Dimensions:
105mm L X 28mm W x 12mm H
Interchangeable/Compatible with:
All automobiles and devices equipped with a 12 or 24 Volt DC power source.
LED Power: 6/12Pcs 3W LEDs
Lens: /
LED Lifespan: 100000H
Flash Pattern: Single clor:20; Dual color: 25
Input Voltage: 10-30V
Max Power: 18W
Average Current Draw: /
Colour Available: Single and Dual color
Ambient Temperature: -30--+70℃
Waterproof: IP67
Product Dimension: 105mm L X 28mm W x 12mm H
Mounting: Surface mount
Certifications: Pending
Wire: 4 wires
Cable Length: 20cm
Material: Aluminum base,UV-resistant PC
Net Weight: 55g
Request a quote about this product