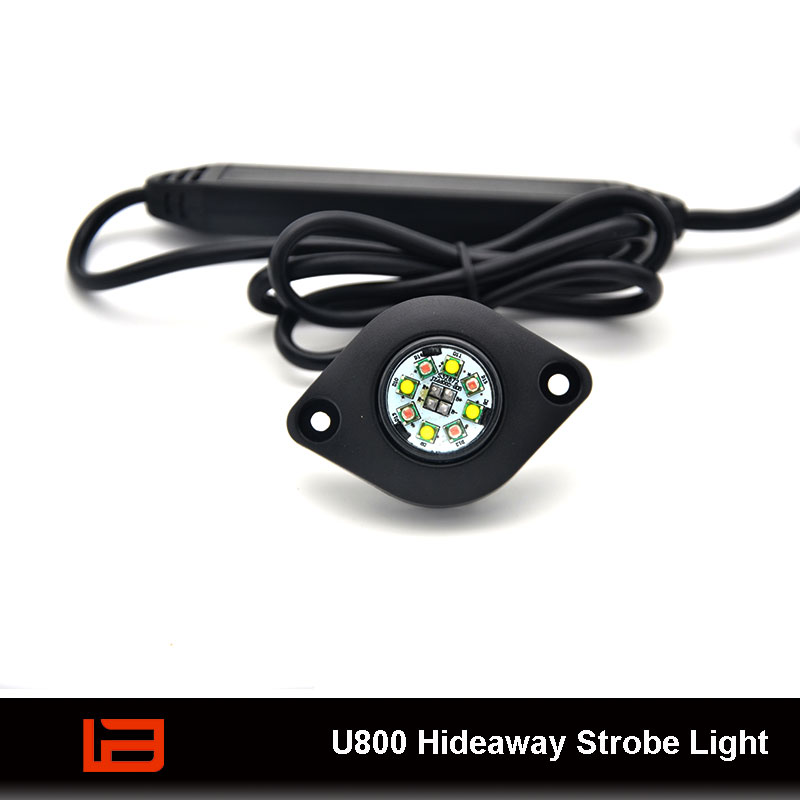 U800 Hideaway LED Strobe Light
The U800 LED Hideaway Strobe Light uses gen IV LEDs to produce bright light in multiple color options. Can be installed as a surface mount or as a hideaway.
Request A Quote
Features:
Powered by 12-24V
Each unit consists of 8 high intensity LEDs
16 Flash Patterns with Pattern Memory(watch the video)
Tiny Stealth Light for Head and Tail Lights
Versatile application with surface mounting design and internal mounting within light assemblies
Lifespan of up to 100,000 hours
100% Waterproof (not submersible)
Easily replaces traditional hideaway strobe with existing 1" hole
Meets or Exceeds SAE J595 Standards
Warranty:
5 Year Warranty on All Emergency Vehicle Lighting Products
Included in Box:
1 x LED Hide-A-Way Strobe
1 x Black Mounting Flange
1 x Rubber Gasket
Screws
Owner's Manual
Dimensions:
⌀ 38.5mm x 18.8mm H
Interchangeable/Compatible with:
All automobiles and devices equipped with a 12 or 24 Volt DC power source.
LED Power: 8PCS 3W
Lens: /
LED Lifespan: 100000H
Flash Pattern: 16
Input Voltage: 12-24V
Max Power: 24W
Average Current Draw: 500mA@12.8V DC
Colour Available: Single color or split color
Ambient Temperature: -30--+70℃
Waterproof: IP67
Product Dimension: ⌀ 38.5mm x 18.8mm H
Mounting: Surface mount
Certifications: /
Wire: 1 pos, 1 Neg, 1 sync, 1 pattern,1 alt
Cable Length: 10ft (3m)
Material: Aluminum base
Net Weight: 130g
Request a quote about this product