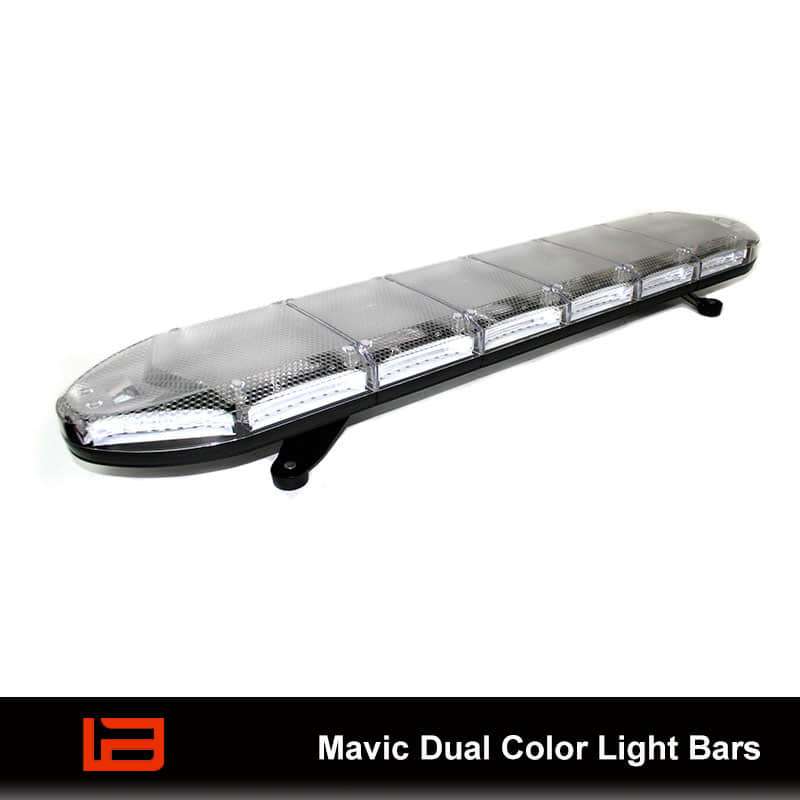 Mavic Dual Color Full Size LED Light Bars
The Mavic Dual Color LED Full Size Light Bar features 3-watt high intensity Super bright LEDs with built-in ultra bright takedowns and alleys. Universal gutter brackets and controller included for easy installation & use.
Request A Quote
Features:
Dual-color is available now!!!
Powered by 10-30V
High intensity 3W Super bright LEDs
16 available flash patterns with Pattern Memory
360° High-Intensity Versatile, Multi-Purpose Light Bar
LED take-down and alley lights
Arrow stick directions: right, left, center out
Lifespan of up to 100,000 hours
IP67 Waterproof Exterior Light bar
Optional Control Box available for purchase
Includes 4m of cable with controller(on/off and mode) provided
Magnet mount or Gutter Mount
Meets or Exceeds ECE R65 TB1, ECE R65 TA1, ECE R10
Warranty:
5 Year Warranty on All Emergency Vehicle Lighting Products
Included in Box:
Mavic full size light bar
4m of cable with controller provided
Gutter
Screw
Owner's Manual
Dimensions:
740/890/1040/1190/1340/1490/1640/1790/1940/2090mm L*240mm W*138mm H
Interchangeable/Compatible with:
All automobiles and devices equipped with a 12 or 24 Volt DC power source.
LED Power: 135 PCS 3W
Lens: /
LED Lifespan: 100000H
Flash Pattern: 16
Input Voltage: DC 10-30V
Max Power: 135W (47inch)
Average Current Draw: /
Colour Available: single, split and dual color
Ambient Temperature: -30--+70℃
Waterproof: IP67
Product Dimension: (740-2090)mm L*240mm W*138mm H
Mounting: Magnet mount or Gutter Mount
Certifications: ECE R65 TB1, ECE R65 TA1, ECE R10
Wire: /
Cable Length: 4m of cable with controller provided
Material: UV-resistant PC
Net Weight: /
Request a quote about this product