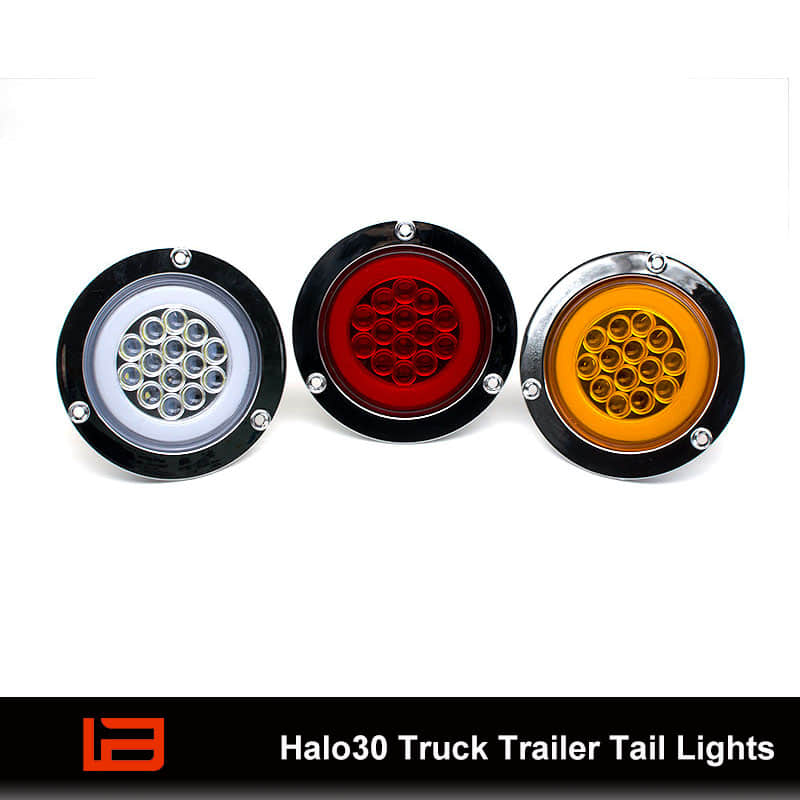 Halo30 Truck and Trailer Tail Lights
Halo30 halo lights with chrome plated. Truck and trailer LED lighting with stop/turn/tail functions for Heavy Trucks, Tractor Trailers, and Semi-Trailers.
Request A Quote
Features:
4 Inch Round Chrome plated Tail Light
Truck and trailer LED lighting with STT(stop/turn/tail) functions
Flash function available
Powered by DC 12-24V
14Pcs+16Pcs 0.4W LEDs
Amber/Red/White lens available
IP67 Waterproof PC Lens, Shock Proof, Dust Proof
Easy to install in all locations
Test Each Item and 100% Ensure In Good Condition Before Shipped
5 wires(Red: Halo+Middle Part; Blue: Middle Part; White: Halo; Yellow: Flash; Black: GND)
Warranty:
1 Year Warranty on All Emergency Vehicle Lighting Products*
Included in Box:
Halo30 Truck Trailer Tail Lights
Chrome plated
Owner's Manual
Dimensions:
4 inch
Interchangeable/Compatible with:
All automobiles and devices equipped with a 12 or 24 Volt DC power source.
LED Power: 14Pcs+16Pcs 0.4W LEDs
Lens: Amber/Red/White lens available
LED Lifespan: 50000H
Flash Pattern: /
Input Voltage: DC 12-24V
Max Power: 12W
Average Current Draw: /
Colour Available: Amber/Red/White
Ambient Temperature: /
Waterproof: IP67
Product Dimension: 4 inch
Mounting: Surface mount
Certifications: /
Wire: 5 core(Red: Halo+Middle Part; Blue: Middle Part; White: Halo; Yellow: Flash; Black: GND)
Cable Length: 20cm
Material: UV-resistant PC
Net Weight: 208g
Request a quote about this product