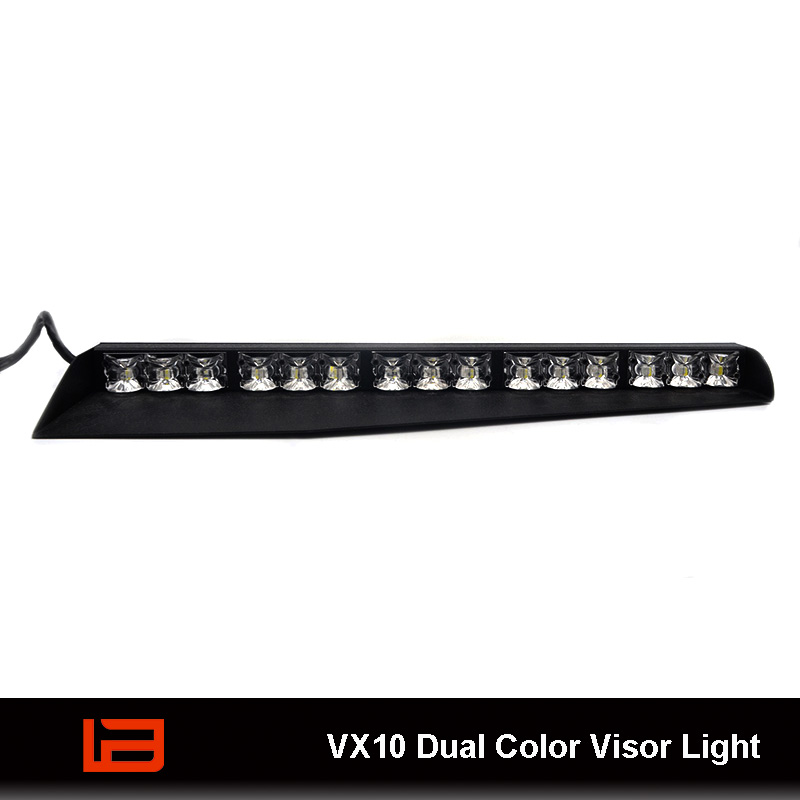 VX10 LED Dual Color Visor Light Bar
The VX10 LED Visor Light gives you TWO or THREE high intensity lights in the space of One! 3-Watt LEDs have been reconfigured creating a formidable light force that shines brighter and farther.
Request A Quote
Features:
Powered by 12V
Single or Split or Dual color available
60Pcs GENIII 3-Watt LEDs
- (30) 3-Watt Colored LEDs - (30) 3-Watt Takedown LEDs
41 flash patterns
Cigar plug with on/off & flash pattern or default controller with on/off & flash pattern & takedown
Flash pattern memory
Sleek, durable housing
Includes universal brackets
Warranty:
5 Year Warranty on All Emergency Vehicle Lighting Products
Included in the Box:
VX10 visor light bar
Cigar plug or default controller
Universal visor mount brackets
3m of cable
Dimensions:
Half: 450mm L x 105mm W x 30mm H
Interchangeable/Compatible with:
All automobiles and devices equipped with a 12 or 24 Volt DC power source.
LED Power: Single color: 30PCS 3W ; Dual color: 60PCS 3W
Lens: Fresnel lens
LED Lifespan: 100000h
Flash Pattern: 11(single color) or 41(dual color) available flash patterns
Input Voltage: DC 12V
Max Power: Single color: 90W Dual color: 180W
Average Current Draw: /
Colour Available: single color or split color or dual color
Ambient Temperature: -30--+70℃
Waterproof: /
Product Dimension: 450mm L x 105mm W x 30mm H
Mounting: Brackets mount
Certifications: /
Wire: /
Cable Length: 3m of cable with cigarette plug or default controller
Material: Aluminum alloy
Net Weight: 1500g
Request a quote about this product